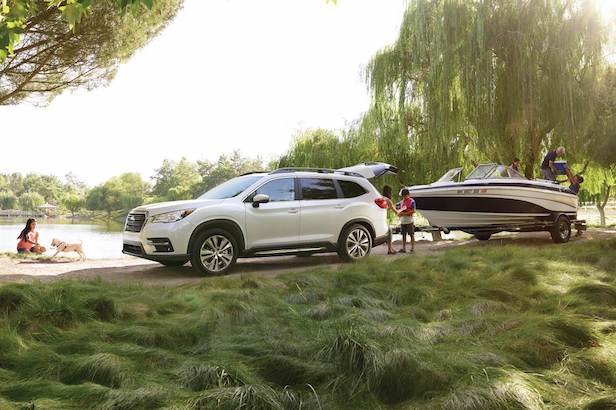 The Subaru name is synonymous with rugged capability, making them excellent companions for drivers near Milwaukee. With their potent all-wheel-drive systems and reliable Boxer engines, these vehicles are eager to get any job done. Each of Subaru's crossovers and SUVs are capable of towing when equipped with a towing hitch. Our Subaru dealership is here to tell you which Subaru is best for towing.
How Much Can a Subaru Crosstrek Tow?
The smallest of Subaru's offerings is the Subaru Crosstrek. This exceptional SUV can tow up to 1,500 pounds on the standard model, and up to 1,000 pounds with the Hybrid edition.
New Subaru Crosstrek Inventory
How Much Can a Subaru Outback Tow?
The Subaru Outback is a classic staple for drivers everywhere. The Subaru Outback can pull up to 2,700 pounds. When you go up in trim levels, you'll find that this SUV can tow even more. For example, the 2020 Outback Onyx Edition XT offers a maximum towing capacity of 3,500 pounds - the most ever for an Outback.
How Much Can a Subaru Forester Tow?
The Subaru Forester is another iconic SUV model. The Forester can tow up to 1,500 pounds.
How Much Can a Subaru Ascent Tow?
The largest SUV Subaru has ever built is the new Subaru Ascent. This SUV has the greatest towing capacity of the entire Subaru lineup. While the base model offers 2,000 pounds of towing, higher trim levels of the Subaru Ascent can pull up to 5,000 pounds.
Tow Your Own Way with Sommer's Subaru near Milwaukee
Interested in finding in a Subaru of your own? Don't hesitate to contact us at our Milwaukee area Subaru dealership today.