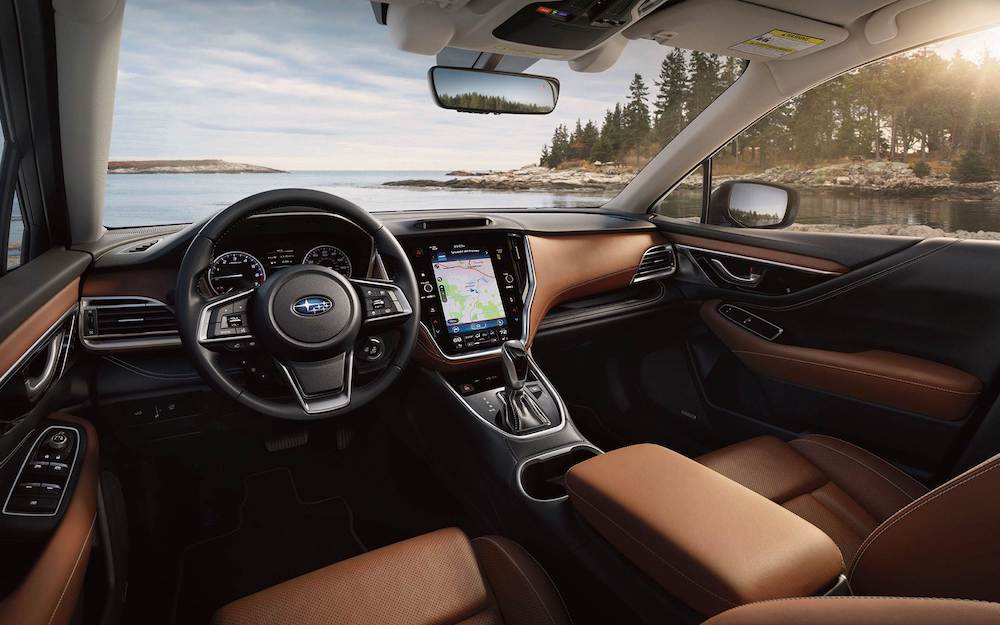 Drivers in the Milwaukee area have seven 2021 Subaru Outback models to choose from with four of the seven trims offering leather-seat interiors:
Outback Limited
Outback Limited XT
Outback Touring
Outback Touring XT
More specifically, the Touring and Touring XT models contain a higher grade, full-grained Nappa leather-trimmed upholstery.
The Touring and Touring XT's Nappa leather seats are also ventilated, though all four leather-trimmed 2021 Subaru Outback models have Power adjustable front seats to customize your driving experience even further.
To keep your hands cozy on the wheel, Subaru provides optional installation for a heated steering wheel in the 2021 Outback Limited, a feature that is standard for the other three leather-trimmed 2021 Subaru Outback models.
However, the 2021 Outback Limited is the only leather-seat Outback model that has a moonroof, creating another window up top for more natural light to pass through.
More 2021 Subaru Outback Features
Each of the four leather-seat Subaru Outback models have identical legroom specs with 42.8 inches in the front and 39.5 inches in the rear.
For larger parties, the Outback Limited boasts the most headroom (40.1 inches/39.1 inches) as well as the most passenger volume with 109 cubic feet.
Aside from the standard 2021 Outback, each model contains a leather-wrapped steering wheel and shifter handle as well. To brace yourself during the Wisconsin winter, every Outback has heated front seats as part of the All-Weather Package, again, except for the standard 2021 Outback model.
Technology in the 2021 Subaru Outback
Every 2021 Subaru Outback comes installed with STARLINK, Subaru's Multimedia Navigation system and EyeSight Driver Assist Technology, giving you confidence on your many journeys to come.
With Symmetrical All-Wheel Drive and a rear-vision camera, your safety is a top priority in every Subaru.
If you're in the Milwaukee area and want more information about 2021 Outback or to schedule a test drive, contact us at Sommer's Subaru.