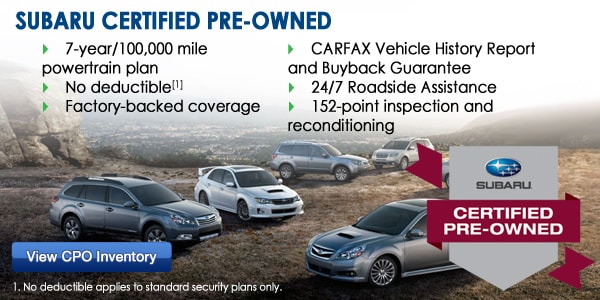 Standard Plan Coverage
Each Certified Pre-owned Subaru comes with the following:
Carfax vehicle history report
Roadside assistance
152 point safety/service inspection
Rental and towing benefits
Mechanical breakdown coverage
The standard warranty is a $0 deductible 7 year 100,000 mile powertrain Subaru Added Security plan with roadside assistance. There is no additional charge for this plan!!
The Powertrain warranty covers:
ENGINE: engine block, cylinder heads, all internally lubricated parts, camshaft, drive belts, intake manifold, flywheel, valve covers, oil sending unit, oil pan, oil pump, motor mounts, seals and gaskets, turbocharger assembly, and fuel injection system.
ALL-WHEEL DRIVE: final drive housing/rear differential assembly, all internal parts, axle shafts, constnt velocity joints and boots, double offset joints, propeller shaft, center support bearings, universal joints, wheel bearings and spindle, rear torsion bars and control arms, hub bearings, seals and gaskets.
TRANSMISSION: transaxle case, all internal parts, torque converter, transmission mounts, seals and gaskets.
TOWING AND RENTAL CAR- for a covered failure, Subaru will reimburse you up to $100 per occurrence. For rental vehicles, if the car is kept in the shop overnight for a covered failure, Subaru will pay up to $30/day toward the rental for a maximum of $150.