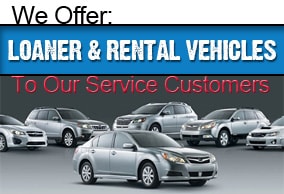 For our customer's convenience, we offer multiple modes of transportation for anyone dropping off their vehicle for service work. Courtesy shuttles can transport customers up to 10 miles from the dealership. Sommer's Automotive rental vehicles can be reserved in advance for a small fee. For long-term rental needs, we can also assist customers in coordinating a rental through an outside rental provider. We work with Enterprise, Hertz, and Mayfair Rental, all of which provide pick up/drop off services to your home, work, or Sommer's.
No matter what your transportation needs, we can work with you to provide the most convenient option!


Just fill out the form on this page, or call us to arrange transportation for your next service visit. The sooner we know about it, the sooner we can accommodate your schedule!