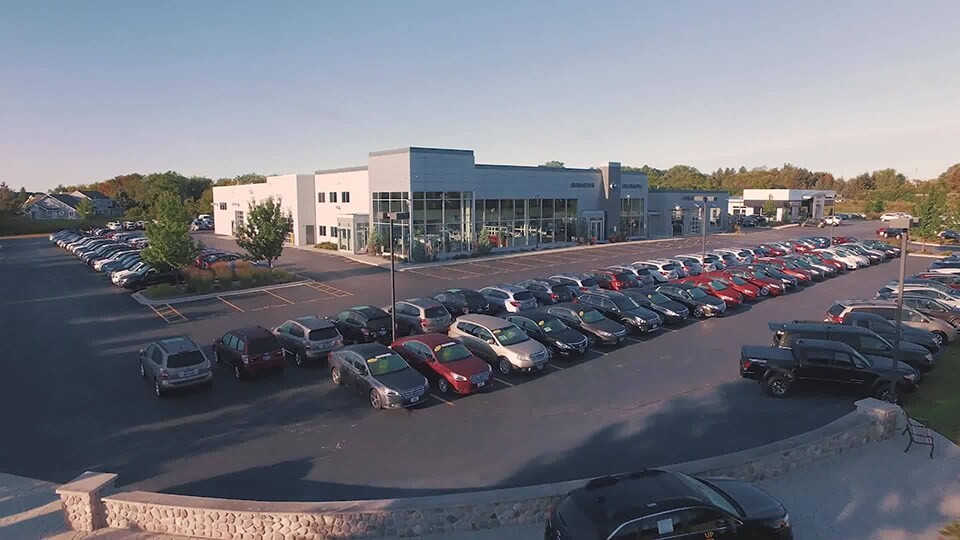 The Sommer's Subaru Difference

Here in the Milwaukee and Mequon area, when drivers are looking for an automotive dealership experience that delivers selection, expertise, and topnotch customer service, they turn to the Sommer's Automotive Family of dealerships. Synonymous with service and care, the Sommer's group of local dealerships is unsurpassed in the area for delivering the kind of attention Milwaukee drivers deserve.
When you're looking for the signature Sommer's brand of customer service, with an extensive selection of world-class new Subaru vehicles, you want to visit us. At Sommer's Subaru, we combine the top-quality engineering and performance of the Subaru brand name, with the impeccable care and attention to detail you've come to expect from the Sommer's group.
In addition to our full collection of both new and used vehicles, we're also proud to give our customers a full menu of services they can count on, from routine maintenance done on the fly, to body shop repair that works with your insurance company, and everything in between.
Full Auto Body Repair Services
There aren't many places here in the Milwaukee area where Subaru drivers can turn to for certified bodywork. But they can turn to us. We offer a fully staffed body shop, the Sommer's Advanced Autobody Collision Repair Center, where we welcome you to visit us and let us help you straighten out life's little dings, dents, and scratches.
In fact, our body shop team is the culmination of more than 60 years' worth of automotive knowledge, with a variety of benefits for you, such as:
Window tinting services
Paintless ding and dent removal
Automotive detailing, inside and out
Free estimates
The ability to work with most insurance companies
Contact our body shop to schedule.
Subaru Technology Genius
Follow-up scheduled appointment on your new Subaru to review technology features and operation: Bluetooth, Subaru Eyesight, Navigation System, Subaru Starlink and more!
Always available for future needs and questions, we want to ensure you use your Subaru to its full capacity.
Expert Subaru Service Your Vehicle Needs to Perform at its Best
From routine oil changes to periodic brakes replacements, your well-crafted Subaru vehicle needs a variety of important services to keep it running in tiptop shape for a long time to come, and we provide a full menu of available appointments in our expert service center.
Schedule your appointment online using our convenient, secure scheduling system, and see the difference professional care at Sommer's Subaru can make on your driving experience.
Complimentary Pit Stop Service
In addition to our full-service maintenance center, we also offer a variety of quick-hit maintenance services you don't need an appointment for. We understand life is busy for many of our Milwaukee customers, and finding time to squeeze in an appointment for automotive maintenance can be difficult. We offer a number of essential services on the fly, pit stop style, so you can stop by anytime and have a number of key parts of your vehicle inspected or looked at by our expert team, including:
Topping off engine fluids, such as coolant, steering fluid, windshield wiper fluid, oil, and more
Check engine belts
Check windshield wiper blades
Check tires and air pressure
Alternative Transportation
Can't sit around and wait for your vehicle? We understand, and we offer a courtesy service shuttle and available rental vehicles, to help you stay on track and on time in your busy schedule while we take care of your vehicle.
Sommer's Automotive Rental Vehicles - Sommer's has a rental fleet available specifically for our service customers.
Uber Transportation - Uber is available in this area for personal service. Visit uber.com for more details.
Auto Body Repair - Alternative transportation is available through outside rental car providers. Enterprise, Hertz and Mayfair rental are most commonly used in this area, and all will provide pick up/drop off services to your home, work or at Sommer's
For questions regarding alternative transportation, please call our Service Department at (262) 242-0100.
Experience the Sommer's Difference Firsthand
Learn more about all we have to offer in person, such as our Milwaukee area referral program. Refer someone you to know to visit us, and we'll send you a nice gift card.
Stop by and visit us at our Mequon showroom to see firsthand how we take the average automotive shopping and owning experience and elevate it with topnotch care and customer service. We're proud to be your local Eco-Friendly Retailer, with an energy efficient facility that stays engaged in the community and recycles extensively as part of our strive to create a zero-waste environment, and we look forward to demonstrating this, and all the other reasons why you should do business with us, in person soon.